that's kind of my plan. buy one in about january when they are cheap.
ditto, except looking for a 500
Just trying to see who rides on here or plans on having a bike next summer. I know a lot of my friends are planning on getting a bike.
r6 raven editon here i come.
This thread has been done a million times over. Please search next time.
Merged.
Or you can pick up a thumper! I have the "S" off road model cause I like hard trail riding and jumping. You can get a DR-Z400SM super moto style right from the factory. I took these yesterday, it was sooo friggin nice out!!

I have a Honda CBR600F3
It's my first bike.
~Scares the shit outta me : X~
samsara… whered u take those pics?
first pic is NT power lines.
street are :snky:…not really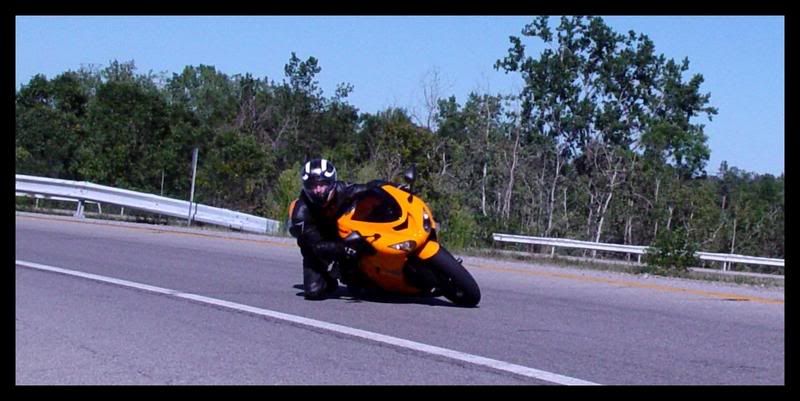 kcuv took this pic… turned out well… to bad i had to shrink it… he has more, but what I really want is a NEW place to take pictures… any ideas?
I have a secret place we could go to for a few, you could get some really interesting pics. No turns there, but I think you would enjoy a snap or 2. I'll pm you willi with my number and well hit it up sometime.
blacktop in the middle of the woods…lol it will look funny with your street bike, and you don't have to cross much if any dirt.
yea… but im not able to afford new tires nor the track day… however. I am LOVING the new bike… no complaints there :)… i found the one I'll most likely keep for a decent time. It does all that I ask it to. (so far)
Holy hell… i just realized I've had this bike for over 4 years…
How many have you put on it since the move?
( AKA: come back please? <3 )
Well it was only ridden one season, then put under a cover… probably 3-4k… lol… disappointing.
It sucks riding here.
Word. EvilJay and I tried to get some riding done down here. It was pretty awful. A lot of going straight, waiting at intersections, and sweating.
---------- Post added at 03:26 PM ---------- Previous post was at 03:25 PM ----------
Wow this site has changed a lot.
---------- Post added at 03:26 PM ---------- Previous post was at 03:26 PM ----------
Wow this site has changed a lot.