So I picked up a couple tracked snowblowers for parts. I used the auger housings on two of them, but have the drive and track parts left. I know these are hard to find now since a lot of the tracked parts are not made anymore from what I can tell.
The three machines are:
PowerPro 8hp 26" cut. Model Number: 31AE740F120. This was made by MTD, which also made a model for Craftsman. No motor.
Before it was taken apart: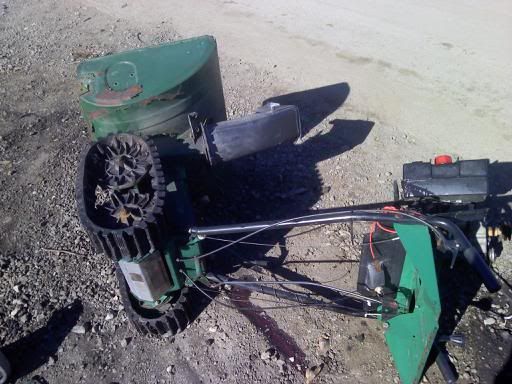 Craftsman 5hp 23" cut. Model Number: 768.884800. One rake was welded, motor is there, but has had carb removed. Have most of it the carb, Has older electric start on it. This has the Trac Drive tracks on it in good shape.
Before it was taken apart:

Craftsman 8hp 25" cut. Model Number 536.884900. I used the auger housing from this, and there is no motor. This is the same trac Drive as

#2

. Also in good shape. I believe this was 6 forward, 2 reverse.
Before auger housing was removed: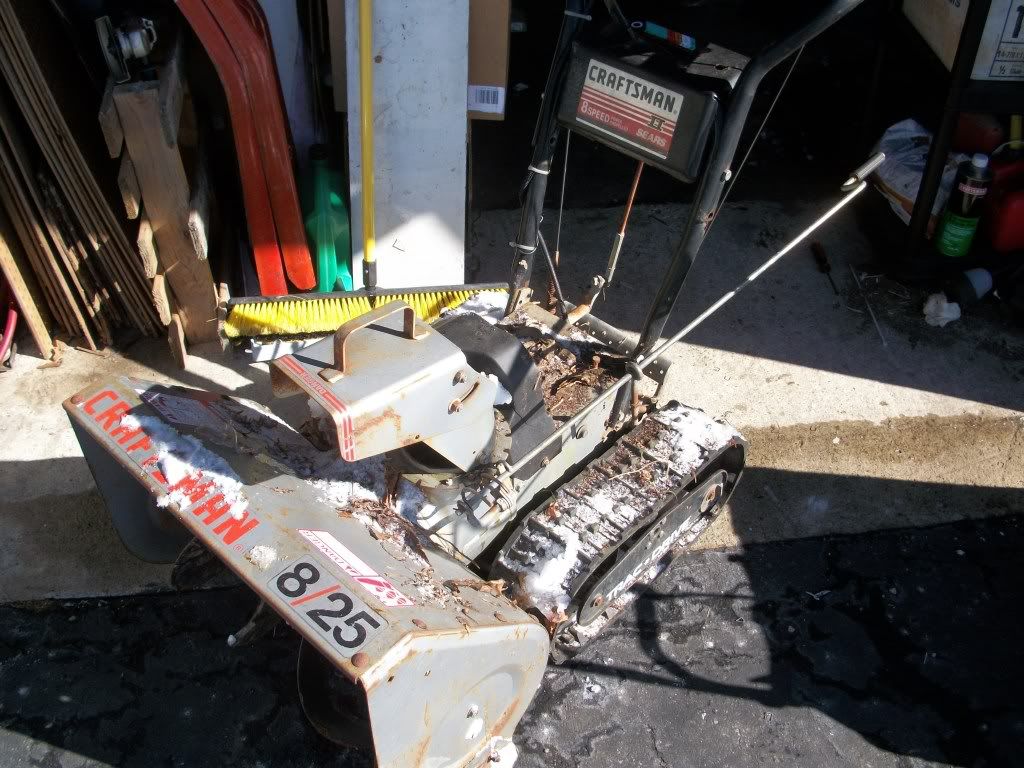 #2 and #3 are essentially the same drive and handle unit, with a different motor and size auger housing on it. I also read that the track units were sold as a kit as well for converting your wheeled snow blower into a tracked model.
And here are pictures of the current state of the parts ones: http://s282.photobucket.com/albums/kk241/jimmyfloyd182/for_sale/Parts_Q1_2011/Snowblower_Parts/
Open to offers.
Also have three other wheeled machines that may be for sale soon, but that need work.
Snapper 4220 5hp that needs a carb adjustment and an impeller bearing.

Agway (NOMA) 8hp 24" cut. Runs great. Currently has the 25" auger housing on it as the 24" auger housing needs the worm gear, rear bearing and an auger shaft.

Craftsman 8.5hp 26" cut. Runs well. Auger brass worm gear stripped and rear bearing needed. Has both parts, but one rake is rusted to the shaft so I can't get the gear box off to replace the gear currently. May put the 23" auger housing with this one if it work.
(unit minus auger housing is in picture above in the back)
Everything is pickup in Binghamton. Some smaller parts I can ship. won't split up the last three just yet.