Take a look here at his application on Ziptied to become a member:
"Username: Tyler
Real name: Tyler
Age:20
Location:Toronto, Canada
Email: tyippolito@hotmail.com
Car Make: Model: Year: Nissan 240sx 1990
Drift? At local track days and amature "DX-2" events
Grip? This is the style I enjoy most. To me, holding traction is just as exciting as breaking it. I have my car set up for road/grip
Drag? My S13 is fast enough to keep me happy but I don't try to play it off as a drag car. I'm still confident enough in my driving to have a chance against faster cars with worse drivers.
Poser? With all the hype around drifting and especially around the car I drive, it's hard to set yourself apart from the fad followers. I stick true to my own tastes and opinions whether they be left wing or right wing. So that's a big N O.
What in life are you good at? I'm good at making people laugh, I'm good at building things, I'm a people person, I write professionally for Inside Track motorsport news (Canada's best racing publication. I write for the sport compact/grassroots section. Tech articles and event write ups), I'm a nice guy, and I can drive.
Why do you want to be a member here and how did you hear about us? I want to be a member of ZipTied because I'm sick of signing up for forums that are trying SO hard to be ZipTied and are full of a$$holes and poseurs and sh!t talkers. I know a thing or two about cars, I've done all the work on my car myself and I want to talk to people who have the same skills and interests. I don't remember when I first heard about ziptied, it may have been when I first saw society mike's S13 silvia in Grip video lol… I use zipties for everything, loved the name.
How much REAL driving experience do you have? If you mean Track time, I won't lie to you and say I drive GT. I attend all the lapping days I can, all the drift sessions I can, and I'll be doing some drag this summer as well.
ST115 or InitialD? The Falken ST115 is literally the exact tire I use! 235/40/17 on 17x9's all around
sadly, (or not?) I've never seen Initial D but if it's any concellation, I HAVE seen the fast and the furious lol
me at the track: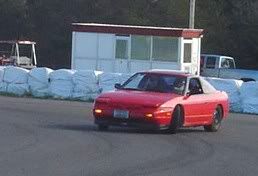 my sexy pig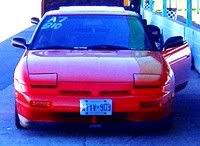 thanks for reading my application. "
This is so fucken lame, not only do you take credit for sasha's driving at the track, but you also gave no credit to anyone who has helped you with the swap. You seem to get people to like you by lying to them and posing as something you're not. Congratulations asshat, I hope no one helps you again.