Although this project is almost complete, I figure it's never too late to add some cool content to the site. This post will be a mess, but I will try to clean it up and update it as I go. Feel free to ask any questions. The car is almost complete, but all the small things are holding me up.
For 2010, I was running a single 76mm turbo with a blow through carb, 331ci sbf, and TH400 trans. It ran a best ET of 9.25@148 and best MPH of 9.60 @ 151. Of course that wasn't enough, so I sought after more power.
The goal with this car is to have a quiet, streetable car that I can go blast down the track, and drive the car home in one piece. I run with the MOM's guys, and hope to race at Englishtown, and MIR for some 8.50 index classes. Last years setup was great on the street, and I hope to do the same when the upgrade is done.
I originally intended to run this monster, but as you can see packaging became a huge issue, and I didn't want to make this a pure race car, so the decision was made to run Twins. This way I can keep the single radiator, and still run some kind of exhaust.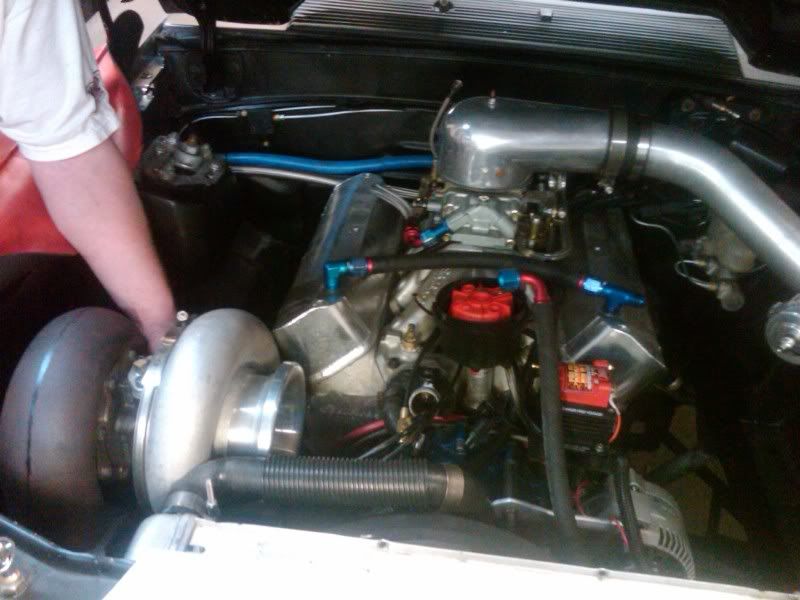 I wanted to have custom headers made, but due to time and money constraints, I just got a set of stainless shorty headers and went from there.
Here I have the turbos mounted up high, eventually The front inside headlights will be removed and routed directly into the turbos.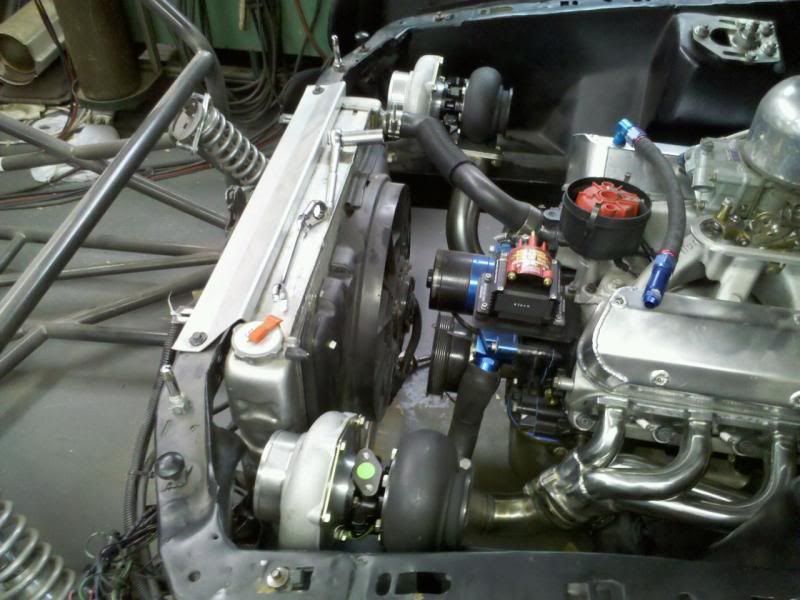 I can't take credit for the fab work, as it was all done by another MOM's Racer, but here are some pics of the cold side piping and merge for the twins.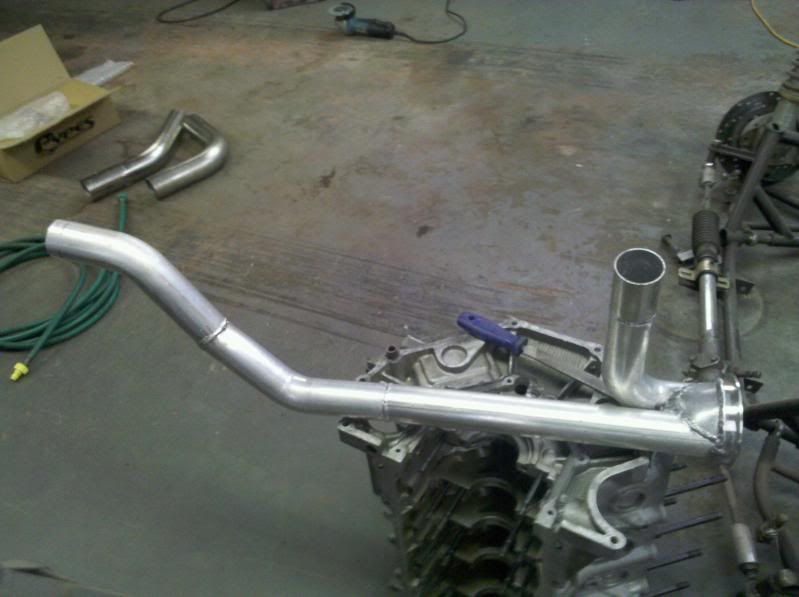 4" pipe inside the fender going to an under dash air to water intercooler. Plenty of room for the tire, only time it might rub is when coming down from a huge wheelstand.
Here is the air to water intercooler that will be concealed behind the dash. I never drive in the winter, so there is no need for heat and the car never had AC, so I was willing to replace the HVAC for boost cooling goodness.
This car will see a lot of street time, so I have added a heat exchanger up front so I can drive around without overheating the water. It is pretty much the same setup the 03-04 cobras use.
Downpipes complete. They will lead into a 3" X pipe with bullet mufflers for now. When I have more money I will put decent mufflers on to make it as quiet as possible.
Procharger BOV in the carb hat:
Here I have the LM2 wideband, and AMS1000 boost controller mounted on the dash so I can see what is going on.
That is all the pictures from my phone for now. I will be taking more pics and updating as I get closer. Here are some pics of the car when it was semi clean. It is mini-tubbed, with stock style suspension, and drag radials.