Just finished a few little projects that have been kicking around.
#1. DSM, this is a FWD 2g DSM.
-Complete 2.3l stroker built by Hybrid. Forged bottom end, ported cylinder head, cams, valve train etc. You get the picture


-Fully Custom Turbo kit spec'd and built here at Hybrid. Everything…manifold properly purged and welded with a complete merge collector, intercooler made from bare core and sheet aluminum and plumbing, downpipe, exhaust, dumptube, oil and coolant lines, etc. We did all the math and calculations for this setup and so far nothing has disappointed. We are extremely happy with the turn out.
-Fully built Shepard Racing transmission with Quaife Differential, this car needs it.
-It also has a host of other little goodies like Tein Super Street Coilovers, Stop tech Big brake kit ( this thing will lock up the tires at 60, needs better rear braking bias) boost controller, turbo timer, Defi Blue Racer gauges. Very nice gauges as well

We installed some sparco seats and used the sparco sliders and bases…this was a nightmare. We called sparco to let them know that the parts they recommended for the application did not fit together (ie slider handle hits the seat, the seat only moves about half of its designed travel, seats hit doors when doors closed) all were fitment issues. Sparcos tech guys response was "I'm not sure, just make it work". I wasn't expecting that. Half asses is not what we are about. So we fabbed up some new brackets and remounted them. Now the seats slide perfect. We also had to custom make a harness bar for the 2g eclipse in order to use his harnesses. No one makes a harness bar for these. Go figure.
As of now I have tuned the car with DSMlink for 10psi for the break in period. This car rocks. For 10 psi and not even getting into the meat of the efficiency I am extremely impressed. This car is running a Garrett GT3076. Car rocks the house on 10 psi. Next step is Magnus intake manifold, larger throttle body, air to air oil filter housing with external oil cooler as high oil pressure and vibration make for loose oil filter housings.

Then we will get the car on the dyno, tune for 21 psi on 93 octane, and 26 psi on race gas.
Should be a fun fun car. Nevermind the body kit, its coming off at some point or so the customer says. Here are a few pics during the progress.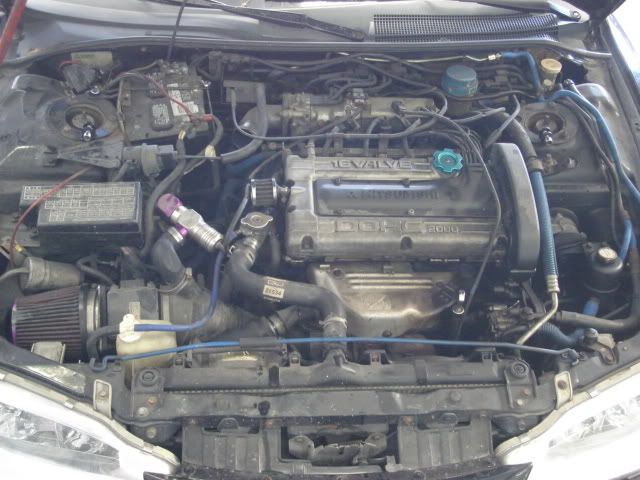 This isn't the most recent picture of the engine bay but close. There is a different intake and a few little details that is all. This is what a DSM underhood on a street car should look like. A place for everything and everything in its place.
90s 300zx TT. Here we custom fabricated a complete front mount intercooler kit for this customer. It uses an 18x10.3x3" garret core which supports just shy of 600whp. This should be more than enough for this clean clean car. We try to stick close to the ultimate power goal of a customer when selecting a core size. Properly sizing the core allows for the least amount of pressure drop and most efficient use of all passages. Here we again started with a bare care and fabricated end tanks, mounting brackets the whole 9 yards. This is where Matt (the new fabricator) really shines. He is the man. Everything is welded and pressure tested to 45psi. No leaks = Happy Fabricator. This fits perfect on the car behind the stock bumper, fog lights are retained and there is the most minimal of trimming on the fog light housings and that is it. Still retains the factory crash bar.